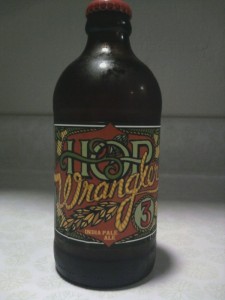 Peace Tree Brewing made it to Iowa City!
I was able to try Hop Wrangler 3 in the bottle. It is an IPA with Belgian, English, and American malts, and  English and American hops added at 6 different times.  A Belgian yeast is used, and leaves a lot of nice sweet esters.
The aroma is very hoppy with a bit of a sweet smell.  The taste has a strong hop flavor balanced with just enough malt.  There is a fluffy white head that stayed the whole glass.  It also had a nice finish.  It was a great IPA, and I look forward to more from Peace Tree!