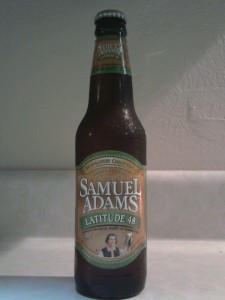 As part of the Summer Mix Pack, Samuel Adams debuted their new IPA, Latitude 48.  It is called Latitude 48 because the American, English, and German hops added are all found around the 48th parallel.
At first, Latitude 48 smells very floral and citrusy, and was a darker red color. At first, it is sweeter than expected, and has a strong hop character. With the taste, I couldn't pin down which hops were used, but I tasted citrus, pine, and a bit of earthy hop flavors.  My impression was that it was sweet but not overly bitter. It was quite an enjoyable IPA.
Have you tried the Latitude 48?  What did you think?