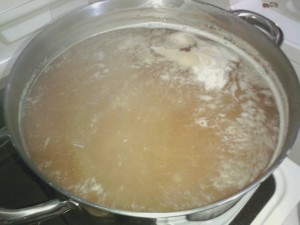 Some of you may have remembered me mentioning brewing a saison.  Since I wrote about it last, it has been completed and consumed.  To be honest, it was good, but might have been a bit phenolic, so next time, I will lower the fermentation temperature a bit.  It did hit as high as 85, but for this strain of yeast, that may have been a bit high.  But, it's gone, so it couldn't have been that bad, eh?
About a week before I made the saison, I brewed an IPA.  I have been brewing for about  two years, but this was my first IPA.  Personally, I think there is a right way and a wrong way to use hops in IPA's.  In my opinion, the wrong way is using the hops early during the boiling of the wort, making the finished beer very bitter.  I don't think this is right at all.  Instead, the correct way, in my opinion, is to concentrate the hop additions later in the boiling process, giving the resulting beer much more flavor and aroma, with balanced bitterness.  The IPA recipe I created used Cascade and Simcoe hops, for a nice, citrusy hop flavor and floral aroma.  I also dry-hopped with Simcoe to enhance the aroma.  It ended up as a very delicious beer.
Last week, I heard about a pastry place in southeast Iowa that creates a dessert called a  "Caramel Apple Tart".  I thought to myself that it sounded like it could be a delicious beer.
So, Friday, when I got home from my trip to Boston, I ventured into unknown territory: a "sour mash".  It was a small batch, about 1.5 gallons of wort, and I added a handful of dry grains to sour it.  I let it sit in a warm place until today (Sunday).  Today, I tasted it, and it was pretty good, because it was just slightly sour from the lactic acid produced during the procedure.  I mixed about a gallon of the sour liquid, the "tart" in my experimental beer, with the beer I brewed today, which was similar to an Irish Red, to give it the "caramel".  As soon as the fermentation is over, I'm planning on adding a couple of pureed Granny Smith apples, to accomplish the "apple".  Viola!
What do you think?  How does a "Caramel Apple Tart" beer sound to you?