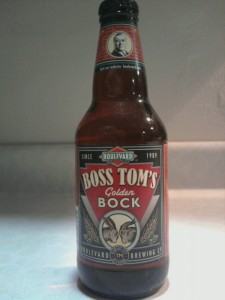 Tonight I had the chance to try Boulevard Brewing's late spring seasonal offering, Boss Tom's Golden Bock.
It was straw-colored, and had just a hint of caramel aroma.  Tasting it, there was a slight malt and bread flavor with a caramel finish.  It has little hop flavor and aroma.
I applaud Boulevard for trying a "late spring" seasonal.  I hope to see it again next year.
Have you tried Boss Tom's Golden Bock?  What did you think?