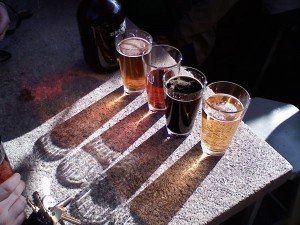 If you are new to beer, or haven't experienced many beers, a great place to start is by exploring beer styles.
Peter Bouckaert, the head brewer at New Belgium Brewing in Fort Collins, Colorado gets very upset when someone mentions beer styles because he sees beer as an art, and not to squeeze into small style categories.  This is true, but for a beginning beer lover, styles are the best guide to exploring the world of beer because it gives you a framework for interpreting the beer.
According to the Beer Judge Certification Program (BJCP), a division of the American Homebrew Association, there are 28 major divisions, with each major division containing 3-4 subdivisions, for a total of almost 100 different beer styles, and the number seems to grow every year.
So where do you start?
Many times, if you are used to lagers or light lagers, it may be to your advantage to try a few wheat beers or pale ales to expand your horizons.  Eventually, if you enjoy the hop flavor enough, you should try the IPA style.
On the other end of the scale, if you haven't had many beers, it may be better for you to try several darker beers that have a lot of malt sweetness with little bitterness.  Some good examples include brown ales, stouts, or the seasonal Oktoberfest.
The key is to try several examples of each style.  There are prototypical examples of each style, for example Sierra Nevada Pale Ale is the prototypical pale ale, but there are other examples that differ in body and flavor such as Magic Hat's #9 or Widmer Brothers Drifter Pale Ale.
So the moral is just because you don't like a beer style, maybe it's just the beer, and not the style.  Or even it's the situation.  The first time I tried New Belgium's 1554 Black Ale, I didn't like it, but this winter, I tried it again and couldn't get enough of it.
Keep diversifying, and enjoy!