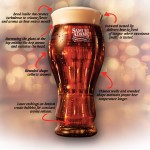 If you are a fan of beer, you may notice many beer brands have their own glass.  Many Belgian-style beers, and the Guinness & Co. Brewery have created their own types of glasses.  They claim the glass makes a difference.  Within the past few years, Jim Koch of the Boston Beer Company, the makers of Samuel Adams, hired a company, TIAX, to help them develop the perfect beer glass (shown to the right, click for a larger picture) to showcase the Boston Lager.  From their website:
The key requirements for the perfect glass for Samuel Adams Boston Lager included: delivering sweetness from the malt; maximizing the hops aroma and flavor; maintaining the ideal temperature; supporting a rich and creamy head; and sustaining the right amount of carbonation.
Many restaurants have begun using this glass to serve their Samuel Adams Boston Lager.
So, do these glasses make a difference?
I recently tried the perfect glass/Boston Lager combination at a local restaurant, and I have to agree, it made my Boston Lager better.  Since this experience, I have used a goblet, tulip glass, wheat beer glass, pilsner glass, or even a wine glass to drink many of the different beers I purchase, and it has made my beer more enjoyable.
So, what of the common tapered pint glass?  It has been said that it was intended to mix drinks, and was never meant to dispense a beer.  So the next time you want to relax with a beer, a pint glass is better than out of the bottle, but the proper glass is even better and makes a world of difference.
Want to try it for yourself?  The next time you visit your local Applebee's or Red Lobster, ask for a Samuel Adams Boston Lager in the Samuel Adams glass.  Let us know what you think!