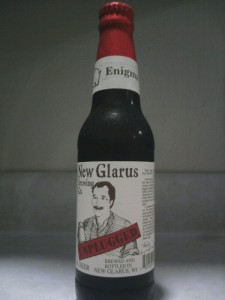 Continuing with the current sour beer trend, along with my trip to New Glarus Brewing, I picked up a four pack of Enigma, from the Unplugged series.
Technically, it is a sour brown ale, similar to the Monk's Cafe Flemish Sour Ale.  It started with a tart flavor, and finished sour.  It leaves a slight caramel flavor aftertaste.
It was a great sour beer with limited availability, so get yours soon!
Have you tried Enigma?  What was your impression?