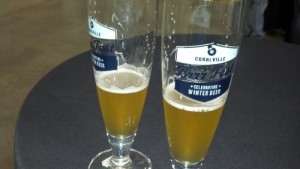 Last Saturday, a few friends and I went to Brrrfest 2013.  Once again, like many of the recent beer events, this one featured a "Brewmaster" session, with advanced entry.  If you read my post about what to look for at beer events, here's what I saw at Brrrfest:
It was a very fast entry to the event.  As soon as we walked into the building, ID's were checked, then we dropped off our tickets and picked up the event tasting glass and program, then went to stand in line.  As soon as the doors opened, all 400 Brewmasters got into the event within 5 minutes, which was great.  There was a ton of room for the first hour, and my friends and I could go explore the different brewers and reconvene to discuss the highlights.  The glass was a commemorative one, but I do wish it was a globe or tulip style, instead of the kolsch-style glass.
Although the written program didn't highlight any special beers, the vendors at the event had a large selection of beers.  I was a bit disappointed several of the bigger names in brewing weren't at the event (Samuel Adams, Founder's, and Stone Brewing to name a few), but the Iowa breweries, including several new breweries, represented very well.  In my opinion, two of the best breweries at the event were Peace Tree (in Knoxville, Iowa) and Van Houzen, a new brewery in Newton, Iowa.  Peace Tree had three different ice beers, made from three different flagship beers (Rye Porter, Belgian Blonde, and Hop Wrangler).  They were very good, and unique to the event.  Van Houzen had several of their beers on tap, and when I went to try the one in the program, Symphony Imperial Double Chocolate Stout, I noticed the rest of the lineup: a Double IPA, Belgian Tripel, and Robust Belgian White Beer, all 8% ABV and higher.  Talk about some heavyweights!  I had a chance to try them all, and they were great.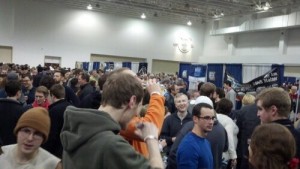 After the event, I asked my friend Macy her thoughts.  She said, "The greatest benefit of attending an event like Brrrfest is that you have the opportunity to meet new breweries that you weren't aware of before the event, yet still get to rub elbows with the brewers from some of your favorite breweries. The mix of exploration and celebration of expertly brewed beer makes for an event that is too good to miss! I'll definitely be attending again next year."
Based on this year, I will too, Macy!  Did you attend Brrrfest?  What was your favorite beer?