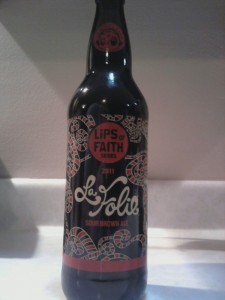 Another beer that is new to Iowa this year is New Belgium Brewing La Folie.  I had a chance to have some of this the other day.
All I can say is "Wow".  It started off with an extreme sour punch, then the finish left a nice sweetness.  My recommendation is to make sure you have more than just one drink, and it definitely becomes less intense.  It is a great beer that is very complex.
Have you tried La Folie?  Can you put the complex taste into words?  Tell me what you think!