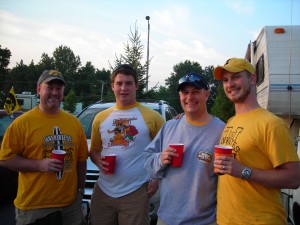 Since becoming homebrewers almost two years ago, my friends and I have found every reason to have home-made beer at events.  Get-togethers, parties, you name it, and we would have homebrew.
This never was more true than this past Iowa Hawkeyes football season.  At the beginning of the season, two of my friends and I decided to create and keg a 5 gallon batch for every Hawkeye home game instead of the regular old tailgate beer (yuck).
There were seven home games, so we decided to split it up that I would brew three batches, and my two friends would each brew two.
We already knew how to make the beer, and we had the 5 gallon soda kegs, so all we needed were the "extras" to make it perfect.  We used our carbon dioxide tanks and regulators to push the beer, and we purchased a picnic-style tap to dispense the beer.  To make the beer stay cold, we bought a "Keglove", which is a neoprene sleeve that houses an ice blanket.  This sleeve fit  over the soda keg, and kept the beer cold for several hours.
Because the University of Iowa doesn't allow kegs, even 5 gallon kegs for responsible parties, we needed to find a location off-campus to do our tailgating.  Luckily, we found a nice spot not far from the campus.
Over the course of the year, we had several styles of beer: an Irish red, a porter, an IPA, an English bitter, and a "breakfast" stout (coffee, oatmeal, and chocolate).  Needless to say, all the people in our group always finished the keg before the game, and we had a great time.