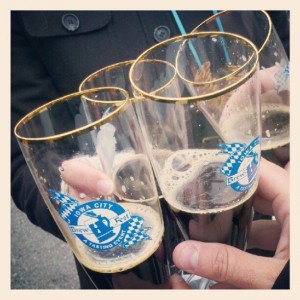 It's been a couple of weeks since Iowa City Brewfest, 2012, and I've had some time to reflect on the event.
With the "Brewmaster" ticket, we were able to enter an hour early, and many brewers had special or limited release beers.  Some of the more memorable ones included:
Overall, I was impressed with the high quality of the unique beers, but a bit disappointed by the low number of special beers.  For example, in the past, New Belgium and Boulevard brought beers either not yet available or a special barrel-aged beer, but this year both brought their widely available beers, from their Lips of Faith (New Belgium) and Smokestack Series (Boulevard).
Overall, it was a very good experience, but with the "Brewmaster" ticket, which has been very valuable in years past, it wasn't quite as memorable.  My only hope is that the larger breweries recognize what a great beer hotspot Iowa City is, and start saving some of those memorable beers for us!
Did you go to the Iowa City Brewfest 2012?  What was your take?