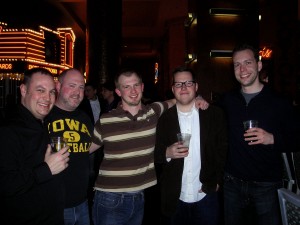 My friends and I recently went to Las Vegas for a bachelor party.  Las Vegas is known for clubs, bright lights, and mixed drinks, but not really beer.  In actuality, Las Vegas does have a few beer experiences that don't break the bank.  Since our hotel was on the south side of the strip, and didn't have a car or didn't feel like taking cab rides, our selection was limited.
The first place we tried was the Burger Bar, located in Mandalay Place.  They had a large selection of beers from common selections, such as Spaten Optimator to more exotic selections, such as Life & Limb, a collaboration between Sierra Nevada and Dogfish Head.  The prices ranged from around $6 to upwards of over $100 for rare selections.  The atmosphere was nice, but the prices tended to be on the high side.
The next day, we stopped by Sin City Brewing, located in the Flamingo hotel and casino.  We tried the Amber, Stout, and Seasonal, which was an IPA.  All were quality beers, but at $6 each, again, we wouldn't be able to purchase many pints.
While we were sitting at the bar, another patron mentioned that O'Sheas, the casino next door, had all-day happy hour, which included $1 Guinness drafts and $3 Black and Tans (Guinness stout layered on Harp lager).  We were excited to find such a great deal.  At the casino, a couple of my friends entered into a beer-pong tournament, and made it into the second round.  We enjoyed O'Sheas  so much, we went back the next day.
A couple days later, we heard of another place, just off the strip, called Ellis Island Casino and Brewery.  The casino had karaoke 7-days a week from 9 pm until 3 am, and had a brewery on-site.  We tried the brewery's Amber, Wheat, and Stout (which mas more like a brown ale).  When it came time to buy the round, we found out each glass was only $1.50.  We sang all night, drinking $1.50 craft brews.
The next day, to finish our weekend, we went to Pour 24, a 24-hour, 24-tap bar located on the mezzanine level of the New York New York Hotel and Casino.  They had several craft brews not available in Iowa, including several Stone Brewing Co. options, such as Arrogant Bastard and Ruination.  On the pricey side at $7.25, we only had a couple of pints (in plastic glasses), but it was a nice way to end the trip.
Next time we go to Las Vegas, we have several great, inexpensive places to enjoy some beer.  What kinds of places have you found in Las Vegas?