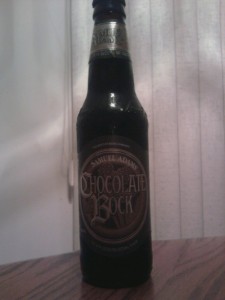 In this year's Samuel Adams Winter Classics 12-pack, Samuel Adams has expanded the scope of their Chocolate Bock.  Previously, the Chocolate Bock could only be found in Limited Edition 25.9 ounce bottles.
The beer smelled sweet, with a scent of chocolate.  With the taste, it was a smooth, malty bock that had a hint of chocolate flavor that comes from the Ecuador cocoa nibs that the beer is aged on.  The chocolate was not too overpowering, and was subtle.  It was just enough to let you know it was there.
I'm glad to see Samuel Adams added Chocolate Bock to the Winter Classics as a seasonal beer.
Have you tried the Chocolate Bock?  What did you think?