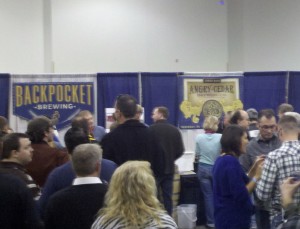 I have a few suggestions to beer event coordinators.  Just note that I've never been on the planning side, so all of my ideas are from the point of view of the patron.
I'm a beer lover.  I try all sorts of beer, and spend quite a bit of time and money finding great beers.  I brew my own beer, try exotic beers, and have a general appreciation for all things beer.
This brings me to the beer event.  In most cases, the main beer tasting event can last 3-6 hours, and has beer vendors who distribute locally where the event is hosted.  This part of the event, the main event, is great for folks who are new to beer or haven't tried a lot of different styles or breweries.
In many cases, in addition to the main event, there is also an earlier experience (1-2 hours earlier) with fewer, limited tickets, sometimes labeled a "Brewmaster" ticket.  It is usually almost twice the price of the general admission ticket.  The crowd of people who attend this earlier event are folks just like me.  A lot of event coordinators advertise the "Brewmaster session" by stating things like "an extra hour (or two) of tasting" and "a better tasting glass".  Unfortunately, to beer lovers like myself, this usually doesn't justify the expense.  The reason for this is because we are looking for an experience.  Let me break down several ideas that could help turn this "Brewmaster session" into a true experience for beer lovers like myself.
First, the glass is much better than the standard tasting glass (which also needs to change to a mini-goblet or mini-tulip, instead of the mini-pilsner), but it needs to be a goblet-style or tulip-style glass.  Some of the events I've recently attended were handing out kolsch-style glasses, which are long and slender.  Most beer lovers prefer rounder glasses (globes or goblets), or tulip-shaped glasses because the beers we want to taste have better flavor and aroma and tend to taste better in these glasses.  Tactually, these glasses feel great in the hand and help us form a bond with the beer in the glass.  Or, if possible, allow us to bring our own glass, as long as it fits certain guidelines.
Beyond that, the extra hour isn't as important, especially if we wait a long time in line to enter.  At a few of the recent events, by the time the last few "Brewmaster" patrons had entered, 20 minutes later the general admission began.  As a suggestion, try to speed up admission by checking ID's and giving wristbands while people are waiting in line.  Also, if there are other items we could do ahead of time while waiting (filling out raffles, etc.), let us know so we can take care of these tasks before getting to the front of the line.  This way, a crowd of 500 can easily be in the event within minutes, allowing everyone to go try any special beers the vendors have.
Once inside, we would like not only a map of the vendors, but highlight those who are bringing special brews to the event.  As a matter of fact, many of the beer vendors can put away their flagship beers, and save them for the main tasting event.  Unless the beer is new to the area, almost everyone at the "Brewmaster" tasting session has more than likely tasted your regular lineup.  We want an experience, and new or interesting beers are exactly what we are looking for.  And why wait to serve special beers until later in the day?  The people who love your beer and will more than likely go out and buy it are here now, during the "Brewmaster" session.
Now, the point I want to make, if I haven't made it clear, is that at beer events, we are looking for an experience.  We want to make sure we remember this event for a long time.  The way this happens is not through a magic glass or more time to get drunk, but by enjoying great beer with other beer lovers, and as a patron, we want to make sure you focus on that when planning your next beer event.
Got any other ideas?  Think I'm full of it?  Tell me what you think!