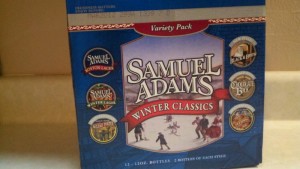 Samuel Adams has once again announced the arrival of winter with the release of this year's Winter Classics Variety Pack.
In the pack, there are 2 bottles each of:
Boston Lager
Holiday Porter
Black and Brew Coffee Stout
Chocolate Bock
Winter Lager
Old Fezziwig Ale
Again this year, Samuel Adams has kept the spices low to ensure drinkable, non-cloying beers. Chocolate Bock is back, and I hope it's only a matter of time before they make it available in 6/12-packs.  This year's addition to the mix pack is the Black and Brew Coffee Stout, which replaces White Ale in the pack.  I had my first experience with Samuel Adams' coffee stout several years ago (2008) when it went up against the Blackberry Witbier in the Beer Lover's Choice where, sadly, it lost, even though it received my vote.
Have you tried the Winter Classics Variety Pack for 2011? Which ones in the pack do you like? Which ones don't you like?