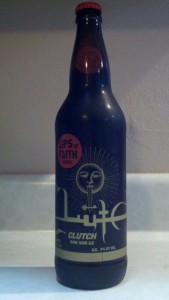 New Belgium has introduced several new beers to the Lips of Faith series.  One you may remember I mentioned tasting at the Iowa City Brewfest was a sour brown ale, Clutch.  I had the chance to try it in a more controlled environment over the weekend.
With the first taste, Clutch has a nice roasted chocolate and coffee flavor, and leaves a slightly sour, not over-the-top, taste in the back of your tongue.  The finish also has a slight coffee flavor.  I thought it was a great beer that's very drinkable, and reminds me of New Belgium's 1554 with slight sourness.
Have you tried Clutch?  What was your experience?