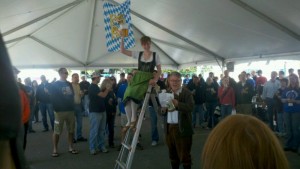 This past weekend was the first Iowa City Northside Octoberfest.  This year, Brewfest was combined with the celebration, to expand the audience of the event.  In addition to Brewfest, there was live music, food  vendors, and Sodafest for those who wanted to try different sodas.
At Brewfest, there were almost 90 different beer vendors with over 400 different beers.  Some of my favorites included two new Lips of Faith Beers from New Belgium: Kick and Clutch.  Kick was described as a slightly-sour pumpkin cranberry ale.  The beer had a lot of cranberry flavor, but the pumpkin was very light.  Clutch was a slightly sour brown ale.  It reminded me a bit of New Belgium's 1554 with a bit of sourness.  Look for both these beers in Iowa soon.
Also, Peace Tree Brewing had several very nice special beers for the festival, including a bourbon-barrel stout (their Belgo-style Black River Gumbo Stout aged in bourbon barrels), a slightly-funky and a bit sour Cornucopia with Brett yeast, and a light and fruity German-style Kolsch.
Did you go to Brewfest 2011?  What were some of your favorite beers?