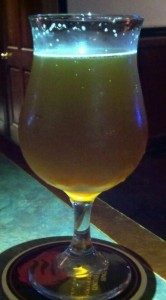 Last night I had the chance to sample Millstream Brewing's next beer in the Extreme Series (after the Hop 2 Double IPA), the Sun "Ryes" Helles Doppelbock at Old Capitol Brew works in Iowa City.  It was a very nice, full bodied beer with a lot of malt sweetness and a nice crispness from the rye.  The rye crispness makes it seem a bit lighter than the 7.9% ABV, and should be in stores in the next couple of weeks.  They recently posted a photo of the bottling line.
One of the representatives from Millstream told me they were having a lot of fun with the Extreme Series, and the next one in the series after Sun Ryse was going to be a Honey Hefeweizen.
Have you tried the Sun Ryes from Millstream?  What did you think?