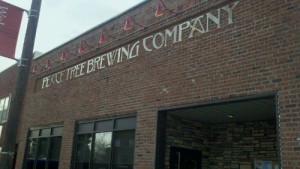 Over the weekend, I was driving through south central Iowa, and decided to stop and visit Peace Tree Brewing in Knoxville, Iowa. Peace Tree burst into the Iowa beer scene last year and have made a splash. They have made several beers that fall outside the standard guidelines, and I applaud them for taking that initiative.
While at the brewery, I had a chance to sample the Black River Gumbo Stout from a tap using nitrogen. It was super smooth and had a great flavor. I also had a chance to try the beer that may make it onto shelves soon: the Blonde Fatale Golden Belgian Ale.
After we had a chance to sample some of the beer, my friends and I were taken back to the brewery. It was smaller than I thought considering how many locations the beers are, but I was glad to visit the brewery, and it made me appreciate more of what these brewers in Knoxville are doing.
Have you been to Peace Tree Brewing? What did you think?