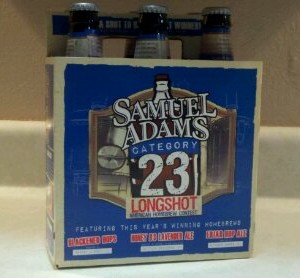 Samuel Adams has released the Longshot Pack, which are the commercial versions of the beers the winners of their annual homebrewing competition.  The competition is an homage to Sam Adams' homebrewing roots. This year's mix pack salutes Category 23 beers, or beers that don't fit into a standard beer style. In the pack are two bottles each of:
Blackened Hops Ale
Honey B's Lavender Ale
Friar Hop Ale
Check back soon for reviews of these interesting beers.
Have you had the Longshot 23 Pack from Sam Adams?  What did you think?