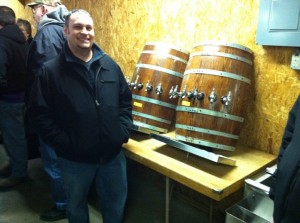 In the past year, Iowa City has been going through a transition.  All bars (any location that has more than half its revenue come from alcohol and cover charges) in the downtown area have changed from 19 to 21 only after 10 PM.  This has gone from a city ordinance to a public vote in last year's November elections.
Because business models had to change to accommodate this law change, several of the local "college bars" have since closed their doors.
Last Wednesday, items from one of the bars that closed, One Eyed Jake's (also called Jake's) were up for auction.  Many of the items were your standard food/bar items, such as coolers, sinks, chairs, and bar stools, but the items I had my eye on were the beer-barrel 6-tap setups that were mounted at the bar.
We waited around the auction, and waited for the bidding to begin on the taps.  Once the bidding began, other than myself, there was one other person bidding.  I knew what they were worth, and I knew what my max was.  At the end of the bidding, I had bought one for $120.  The auctioneer asked if I wanted the other one for the same price.  I glanced at my wife, and she gave me the nod.
So, I was the proud owner of two beer-barrel taps, with 6 faucets each for the low price of $240 (about 10% of retail price).  These taps have been in Jake's for at least 10 years of their 20 year existence.
What to do with the taps is the next question.  Start a brewery, or just stick to having twelve different homebrews on tap.  What do you think?