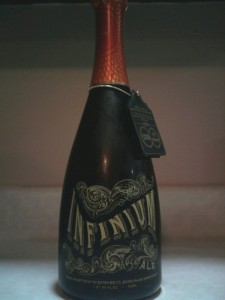 On New Year's, I had the chance to try Infinium, the collaboration between Samuel Adams and the Weihenstephan Brewery, the oldest known brewery in the world. These two breweries worked for over several years to create a new type of beer, adhering to the Reinheitsgebot, or German purity law that states beer can be made of only four ingredients: malt, hops, water, and yeast.  They claimed it to be like a champagne, but it's not at all like the champagne of beers…
To sum up this beer, it closely resembled a highly carbonated Belgian trippel .  What makes it more fascinating though is most trippels tend to use candi sugars in the beer to increase the strength of the beer while reducing the body.  Infinium uses only malt to push this to a 10.3% beer.
This beer smells very fruity, like a trippel with more carbonation.  It tastes like a mix of a Belgian trippel and a Belgian dubbel (because of the bigger malt flavor), and the extra carbonation leaves a big tingling sensation.  It finishes slightly sweet with a dry finish.  I thought it was a good beer that has its place in the beer world, but, in my opinion, at $18, there are more cost effective Belgian beers available.
Did you have some Infinium over New Year's?  What did you think?