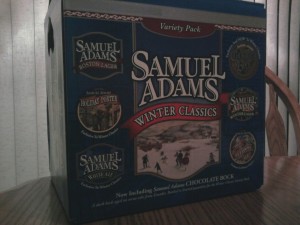 Note: this info is for the 2010 version of the Winter Classics pack. The 2011 pack is located here.
Now that the calendar has turned to November, many breweries are starting to release winter beers.  Maybe it's just me, but letting go of the malty goodness of a fall beer and jumping into spicy winter beers makes me wish it was still fall.  Spiced beers have never been a favorite of mine (I'm looking at you, pumpkin ale), but luckily Samuel Adams hasn't gone overboard with the spices in this year's Winter Classics Variety Pack.
In the pack, there are 2 bottles each of:
Boston Lager
Holiday Porter
White Ale
Chocolate Bock
Winter Lager
Old Fezziwig Ale
Looking through the pack, the only one I would consider unpleasantly spiced would be Old Fezziwig Ale, but luckily, Samuel Adams has learned to turn down the spices a bit to make all of them drinkable.  I like the fact that the Chocolate Bock has been included, and the Cranberry Lambic has been removed.  It's also good to see an appearance from the White Ale, since it's no longer the Samuel Adams spring seasonal beer.
Have you tried the Winter Classics Variety Pack?  Which ones in the pack do you like?  Which ones don't you like?