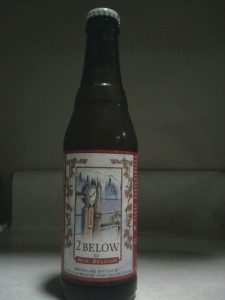 Ah, winter ales.  Thank goodness for New Belgium to shake up the traditional idea of a winter seasonal ale with 2 Below.
2 Below is not your normal run-of-the-mill spiced winter ale.  In fact, I don't even know if they use any spices.  What they do use is subtle hops and lightly roasted malts, for a pale ale-like flavor that is very balanced.
At first, you get a nice scent of earthy hops.  The taste is slightly malty, with a clean hop profile as it hits the back of your tongue.  According to the packaging, the brewery chills the beer to a near-freezing state, which makes the beer very clean and nice on the palate.
I enjoyed this beer quite a bit, and it is very close to being one of my favorites.
Have you had 2 Below?  What was your impression?  Did you like it as much as I did?