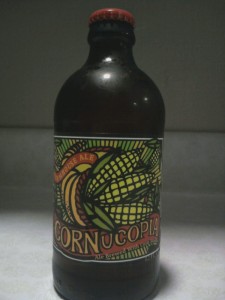 I recently had the chance to try Peace Tree Brewing's Cornucopia.  It is a saison with sweet corn and corn stalks.
Being a fan of saisons, I was excited to sample Peace Tree's interpretation. It had a slightly spicy aroma.  The first taste was a bit sweeter than other saisons I've had, and had a hint of corn flavor.  The finish was clean, but it left an "interesting" aftertaste.
I held back on my original (not as favorable) review of this, and I'm glad I did.  Here's why: I found several things that made drinking this beer a better experience.
It was better fresh.  The bottles I had at the beginning of the season and at the beginning of six-packs were much better than those during the fall and at the end of the pack (unless I drank all of them in a few days time).
It was much better with the yeast mixed in, so pour it into a glass, swirl around what's left in the bottle, and pour the sediment into the glass.
Overall, it was a good saison, but it's still not my favorite Peace Tree offering.
Have you had Cornucopia?  What did you think?