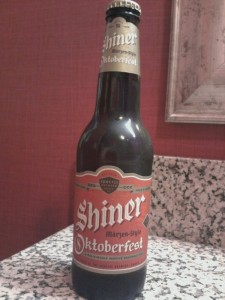 I was recently in Northwest Arkansas, and had a chance to pick up a six-pack of Shiner Oktoberfest.  This recipe has been brought back after a five year absence, and I'm glad they did.
It was a smooth Oktoberfest, and had a hint of burnt malt flavor. It had considerably less body than a few of my favorite Oktoberfest beers, but it was definitely drinkable.  It finished nice and sweet.
Have you tried Shiner Oktoberfest?  What was your impression?