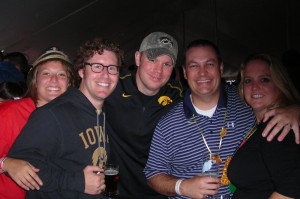 The Iowa City BrewFest 2010 was this past Saturday, and it was a great time.  Each year, the festival continues to grow, and this year there were over 40 different vendors from all over the world, including Germany, Belgium, and the United States.
A few of the beers that stood out to me:
Biere de Mars from New Belgium Brewing.  This was a light brown beer that had a little bit of Belgian ripeness from the Brettanomyces yeast.  It is one of the beers in the "Lips of Faith" series.  I asked the representative when some of the series will start showing up in Iowa, and he said probably November.
American Kriek, New World Trippel, and Stony Brook Red from the Samuel Adams Barrel Room Collection.  Each of these were very distinctive beers.  The American Kriek was not as tart as I thought it would be, but still good.  The New World Trippel was a nice example of a Tripel, but I thoroughly enjoyed the Stony Brook Red.  The ladies who were pouring the beer stated that no one really had liked the beer to that point, but it was just my style: sour, funky, fruit-like ale.
Other than the fact that I preferred the glasses given out for the Brewmaster session last year over this year's version, the Iowa City 2010 BrewFest was a success.  Were you at the BrewFest?  What were your favorites?