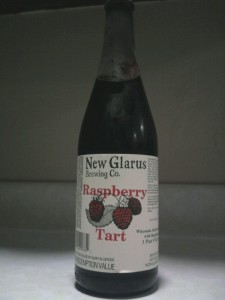 From our trip to New Glarus Brewing Co., I brought back a couple of the special beers, including the Raspberry Tart.  I had the Wisconsin Belgian Red at the brewery, and if this was anything like that, I would be in for a treat.
Initially, the raspberry smell is very intense.  With the first taste, it overwhelms you with raspberry flavor.  It tastes a bit sour then finishes with a strong, sweet raspberry flavor.  It was like a blend between a beer and raspberry wine.
It was a great beer!  If only they distributed around here…
Have you had the Raspberry Tart?  What was your experience?