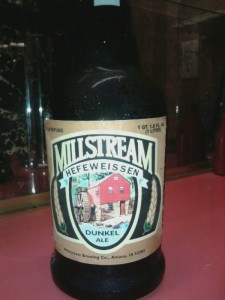 I had a chance to try the Millstream special release Weizenbock.
This reminded me a lot of the Millstream Dopplebock.  It poured nice and thick, with a small head.
It smelled sweet, with a bit of caramel and a bit of bread.  It was nice and smooth, and had a bready-sweet flavor to it.  You could tell it had a higher taste of alcohol, but it was nice, and it finished with a bit of sweetness.
Have you tried the Millstream Weizenbock?  What did you think?