his is day five out of six on our honeymoon to Ireland.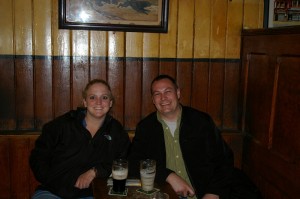 As soon as we woke up in Kilkenny, Grace and I had breakfast, then traveled to Dublin.  By this time, we decided to skip the trip to Carlow, and instead decided to go straight to our Dublin bed and breakfast.
When we got to Dublin, we accidentally took a turn too soon, and discovered the pub John Kavanagh (a.k.a. The Grave Digger's Bar), one of the historic pubs of Dublin.  The story behind it is that it is next to a graveyard, and even though the gravediggers couldn't drink while on duty, they would knock on the outside wall of the pub, and the bartenders would bring their drinks outside to pass them through the wrought iron gates of the cemetery.
Our bed and breakfast wasn't quite ready, so we walked over to Kavanagh's and had a pint.  When we got to the pub, we went into the "old" part of the bar, which hasn't changed for 200 years.  One of the locals started talking to us about soccer, and offered to take our photo (shown to the right).
In Kavanagh's, we signed "the book", which has had people sign it for the past couple hundred years.  We actually signed volume three, so there's two more volumes of history that passed through there, and now we're a part of it.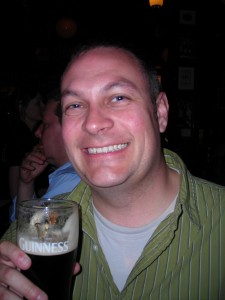 After we checked into our bed and breakfast, we took a bus to downtown Dublin, where we walked around.  We had lunch in one of the local pubs, and then just walked around downtown Dublin.
At one point, we stopped at the Temple Bar, which is also one of the historic pubs of Dublin.  As soon as we walked in, we saw two seats at the bar, and claimed them.  It was as if they knew we were coming.
We sat down, enjoyed the traditional Irish music being played, and had a pint of Guinness.
Although the Temple Bar district was an interesting part of Dublin, by this point we were tired, and after we walked around for a bit more, we took the bus back to the bed and breakfast.
After we rested a bit, we walked back to Kavanagh's to spend the rest of our night.  When we got there, we went to the restaurant side, versus the bar, where we had went earlier in the day.
As soon as we got there, we began to fall in love with the place.  On the wall, there was a poster of several of the historic pubs of Dublin, and I jotted them down to visit the next day on our bus tour.  Our bartender talked about each one, explaining which ones would be the easiest for us to visit.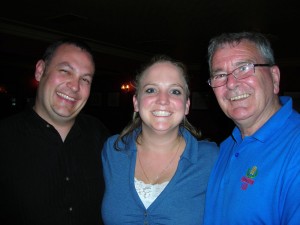 After we had a few, we asked the server, Shannon, if she could sign one of the coasters for us because we were having a great time.  The coasters were special because on one side, there was a photo of the Guinness brewery, and on the other side was the Grave Digger's Bar.  This was special because Guinness rarely made coasters featuring one of the Dublin pubs.
After she had signed one, the head bartender walked out of the back and gave us a stack of about ten of the coasters.  A few minutes later, an older man signed one of the coasters, and gave it to us.  It said, "Best Wishes, Eugene Kavanagh".  Eugene Kavanagh was the seventh generation family owner of Kavanagh's bar.
Shannon told us that we needed to hang onto it because Eugene Kavanagh never signs anything.  As I was talking to Shannon, trying to figure out a memento for her for giving us the signed coaster (I had a $1 bill in my pocket that we signed and gave it to her), Grace was talking to Eugene.  She told him we were on our honeymoon, and even though he never takes photos with anyone, he agreed to have a photo taken with us.  The signed coasters and the photo are some of our most treasured pieces from Ireland.  We had a great time at Kavanagh's, and it easily became one of our favorite places in Ireland.
At the end of the day, in day five, I had seven more pints of Guinness, bringing my total from 19 to 26.  Only six more to go before I hit the 32!