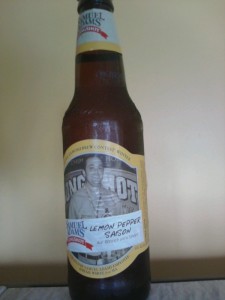 I'm on the East coast again.  This time I was able to pick up the Samuel Adams Longshot 6-pack.  Over the next few days, I'll be reviewing the three different beers available in this pack.
If you don't know what the Longshot pack is, every year Samuel Adams hosts a homebrew competition, and the top two homebrewed beers are featured as two of the three beers in the six-pack.  The other featured beer is homebrewed by a Samuel Adams employee.  All three beers are converted to commercial recipes and are distributed.
The first one I tried as part of this six-pack was made by Samuel Adams employee Jeremy White, the Lemon Pepper Saison.  It was a light saison that tasted light and citrusy.  It had a fairly clean finish that had a slight pepper aftertaste.
I'm glad Samuel Adams chose this beer because I enjoy saisons, and this is a good example.
Is the Longshot pack available in your area?  Have you tried the Lemon Pepper Saison?