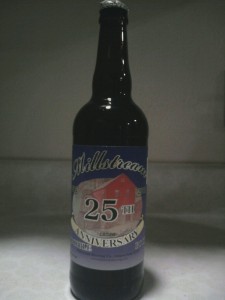 To finish off American Craft Beer Week 2010, I cracked open my Millstream 25th Anniversary Dopplebock.  This was a limited edition release, and was available at the brewery, or John's Grocery in Iowa City.
Right off the bat, I noticed it was very smooth.  Because of how smooth it was, it seemed like they had lagered (stored) it for a while.  I had it on the cool side, so there may not have been as much carbonation bite as usual, and the carbonation seemed low.
True to style, it was very malty sweet with very little bitterness and had nice balance.  It seemed lighter in body than many of the other dopplebocks I've had, making it very drinkable.  It was a very nice beer, and a great first high gravity beer from Millstream.
Did you get a chance to try the Millstream 25th Anniversary Dopplebock?  What was your experience?