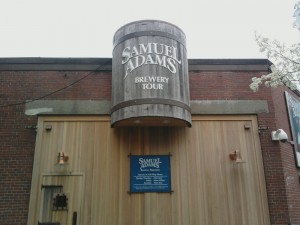 This week I traveled to Boston for work.
I arrived late Wednesday night, and visited with our customer on Thursday.  By 3 PM, the client I was meeting with had another meeting, so we decided to call it a day.  I had expressed some interest in visiting the Boston Beer Co., so he suggested I should check it out.
After quickly stopping by my hotel room to change and look up the brewery address, I took off at about 3:15 PM.  As a bit of foreshadowing, when I was leaving my hotel room, I talked myself out of calling and asking when the tours were conducted.  I had my eyes on the prize and nothing could stop me now.
The trip from the north side of Boston was fairly quick; I only ran into traffic in one of the tunnels, and I made it to the brewery by about 4:15 PM.  The brewery is located in a residential area, with no other businesses around.  I pulled in and parked my rental car, walked to the tour area, only to find the tours stopped and gift shop closed at 3:00.  That's 3 o'clock in the afternoon.  A bit confused, I looked around for another way in, but there was nothing I could do.
It was sad.  From outside the brewery walls, I could smell the hops and feel beer being made, but I could neither see nor taste the gloriousness within the walls.  Before I left, I took a quick photo for posterity (above), "hopped" in my car and left…
… but not all was lost.  I drove straight from the brewery to another brewery, the Beer Works in Lowell, which was only a couple miles from my hotel.  As soon as I walked in, I knew I would enjoy myself because the server told me they didn't sell any commercial beer or hard liquor, just their own beers and some wine.  There I had some dinner, enjoyed several of the craft beers, and met some great folks who lived in the building up the block.
Just to give you an idea how long I was there, one of the guys I was hanging out with closed his tab, went home, then came back later because "it was boring at home".  That's my kind of guy.
So, to the fellas I hung out with last night, next time I'm in north Boston, I'll look you up.  And to the Boston Beer Co., really?  3 PM?