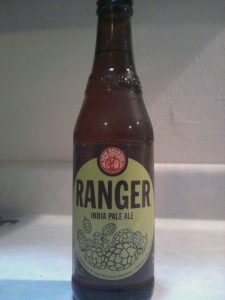 I just had the chance to try New Belgium's Ranger IPA.
At first, there was an aroma of citrus.  Upon tasting, there was a bit of citrus, pine, and mango.  It is balanced, and not too bitter.  With the finish, here is enough hops to make it an IPA.  I can taste the three hops used, Cascade (adds a citrus flavor), Simcoe (adds a bit of mango), and Chinook (gives it a nice bitterness).
It was a good IPA and would try it again.  Have you tried Ranger IPA?  What did you think?