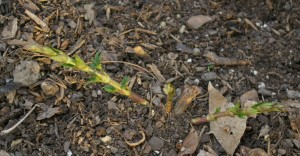 As you bring out your green thumb and decide to plant your own hops, here are the things you need to get started:
Hop Rhizomes (obviously)
A trellis system for the hops to climb
Dirt (another obvious item)
Protection from critters (this is optional, but I found out quickly that squirrels like to dig in the loose soil)
Let's start by discussing each item one by one.  First, hop rhizomes are a section of the root of another hop plant.  What's nice about rhizomes is they shoot off additional rhizomes each year, and those offshoots can be dug up and replanted, or given to friends.  As a matter of fact, that's how the original rhizomes are harvested, and each one is genetically identical to the parent.  Each year around February or March, many homebrewing stores sell rhizomes to plant.  Unfortunately, if you miss this window, you may need to wait until next year to obtain a rhizome.  If you remember from my previous article on growing hops, last year I purchased Goldings, Tettenang, and Willamette hop varieties.  This year, I expanded my hop selection to five by also purchasing Hallertau and Cascade.  As of right now, the Tettenang hops are growing very well, and a couple of bines are over 2 foot tall.  I just planted the two new varieties this evening, but have heard good stories about how well Cascade hops grow in the Midwest.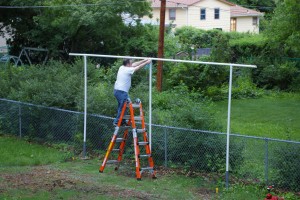 Now that you've obtained the hops, the next step is to build some kind of a trellis system for the hops to grow.  There are numerous designs available, but, from the photo, you can see that I went with PVC pipes.  I found this design on the internet, but have had a hard time finding it again.  If you want details, let me know.
Each one is spaced 8 feet apart, and the PVC is 10+ feet high.  I have three eyelets for each vertical pipe, spaced 2-3 feet apart, screwed into the top pipe, and have strings tied to each eyelet.  Then, on the ground, I have a spike I tie the strings to.
The reason I went with this design is that if you notice at the bottom of the pipes there is a dark gray pipe sunk into the ground.  It is a bit larger in diameter than the white pipes, and each white pipe slides into the gray pipe.  This allows me to remove the white PVC pipes and store them for the winter with only the dark gray pipes staying outside all year.
Now that we have the rhizomes and the trellis, we need to plant.  You can simply place the rhizomes into the dirt and allow them to grow, or you can make the soil more hospitable.  For the most part, there are few nutrients needed, but I dig a hole and use garden soil or potting soil.  Some folks use regular soil mixed with manure.  I also use a liquid fertilizer.  Because the soil is loose to allow for water drainage, it's advisable to put a fence around it to keep the local squirrels and chipmunks from digging in the dirt, thinking they left nuts from the winter buried in your hop bed.
So, that's about all you need to plant hops.  They are hardy plants that just need a little attention and patience, and with time, you will have your own hops.  Look for my progress updates as growing season progresses.
What's your experience with growing hops?  Have you had success where you live?