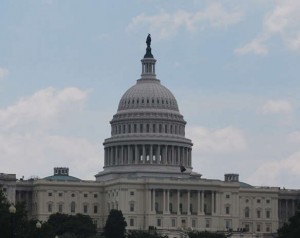 In an effort to improve the small brewer business community, in December 2009, Democrat Representative Richie Neal (MA) and Republican Representative Kevin Brady (TX) introduced H.R. 4278, decreasing the excise tax for brewers producing smaller amounts of beer.  This would give smaller brewers and brewpubs a tax break, up to a specific amount of beer produced.  The current excise tax law was put in place in the 70's and has not been updated since then, even though the national production of beer has more than doubled and the number of small producers has increased exponentially.  In addition, this may allow the initiation and growth of start-up breweries, providing more selection.  The new proposed tax breakdown would be:
The first 60,000 barrels would have the tax reduced from $7 to $3.50 per barrel
Tax on production between 60,001 and 2 million barrels would change from $18 to $16
The current $18 tax would remain for more than 2 million barrels produced in a year
As you can see, this helps small brewers the most, allowing many smaller brewers and brewpubs, including Old Capitol Brew Works in Iowa City, Great River Brewery in Davenport, and Millstream Brewing Co. in Amana, to save money on these taxes.
This bill was brought to my attention by Charlie Papazian, president of the Brewers Association of America.  In his article, Charlie Papazian discusses many advantages of the proposed legislation, with the largest advantage being creation of jobs at the thousands of small breweries and brewpubs across the country.
The Brewers Association has built a resource page to list details of H.R. 4278, as well as the bill's current co-sponsors, which has had the number almost double within the past two weeks.
So, support your local breweries and brewpubs by contacting your representative and either thanking them for the support, or encouraging them to co-sponsor the bill!