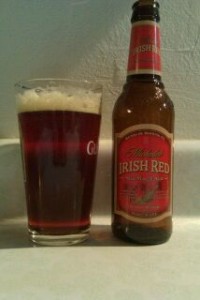 Yesterday, I had a chance to sample Michelob Irish Red. The bottle shape and label were done nicely and caught my eye. The pour of the beer into a glass displayed a nice copper color you would expect in an Irish Red, and had a tan head that dissolved into the glass quickly.
The first sniff was a sweet malty aroma, but not one that really excited me.   There were similar smells to other Anheuser-Busch products.  Mouth feel was surprisingly full, but taste was sub-par by my standards. The hop to malt balance in the flavor was good, but there was the same stale sweetness picked up in the initial smell, maybe due to the yeast used in the fermentation process. The taste finished fairly clean, but did hold on for a little while.
I would recommend this beer if you like inexpensive Anheuser-Busch products, because that is what it is. Definitely a drinkable beer for the money, but personally, I would pay the extra money to get a Samuel Adams Irish Red or even a good ol' Killian's Irish Red Lager.
Have you tried the Michelob Irish Red?  What did you think?