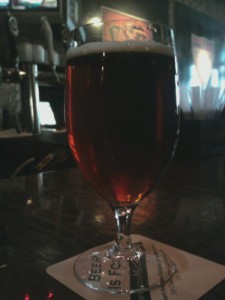 Over the weekend I had the chance to sample the 21st Amendment Ale by Court Avenue Brewing Company (CABCO).  This ale is a rye pale ale, aged in Templeton Rye whiskey barrels.
Right off the bat, the 21st Amendment Ale smells of caramel and a bit like whiskey.  The taste has less bitterness than I would expect from a rye pale ale, but since it has been aging in whiskey barrels for a while, it's not surprising because hop bitterness decreases over time.  It has a slight whiskey flavor, and because of the rye, has a nice, crisp finish. The aftertaste leaves a bit of a sweet, whiskey-like flavor, but not so much that you think you are drinking straight-up whiskey.
It was a very flavorful ale that was perfect for my after-dinner drink.
Let me know if you've had CABCO's 21st Amendment Ale, and what you thought.