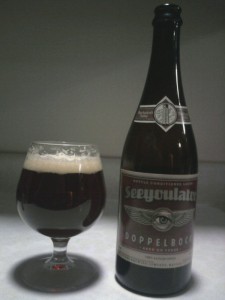 Last night, I enjoyed Boulevard Brewing's Seeyoulator Doppelbock, which is part of the Smokestack Series.  It is a bottle conditioned doppelbock lager, and has been aged on cedar.
Upon tasting, it had a sweet, malty flavor.  With the finish, there was a hint of spice.  According to Boulevard, this is due to the cedar aging.  After trying it, it is now one of my favorite releases in the Smokestack Series.
Have you tried Seeyoulator?  What did you think?