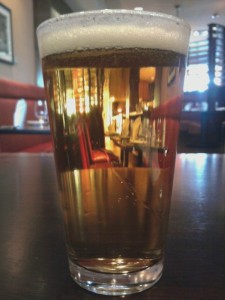 I had the chance to sample Samuel Adams latest seasonal today, Samuel Adams Noble Pils.  It has replaced their White Ale as the spring seasonal.  It is a Pilsner style of beer that uses 5 different types of noble hops, which are the type of hops found in the hop-growing region of Germany (4 of the 5 come from there), and the Czech Republic (1 of the 5).  More specific details can be found at beernews.org.
It was a very hop-forward type of beer with strong bitterness, and was very light and crisp.  I believe the hoppiness was much stronger that a standard Pils, and I have a feeling that folks wanting the hop-presence of a Pale Ale with the lightness of a Pils will find this very enjoyable.  Because the hops are noble, there is more of a spicy hop flavor and aroma than the standard citrusy flavor and aroma found in most U.S. pale ales.
Have you tried the Noble Pils?  What did you think?